I've been living in Saudi Arabia for fourteen years now. Edge of the World, 100 km from Riyadh, was a must-visit place on my agenda. You need a four-wheel-drive or join an outdoor organized group that will take care of the transportation and coordination part to get you there.
I'm a kind of solitary guy. I like to be my own chief and if I don't have a friend wishing to go on an adventure with me, I rather travel alone despite the risks of being alone in the desert.
I have no patience with people anymore, a sign of getting old. Waiting for them to decide if they go or not, if they're properly organized for the trip, if late, and many other considerations that might ruin your plan. Most people around me like to study their options for the day, before deciding for a plan, or don't have the guts to say no, as an answer. Always lingering to make-up their minds and making you suffer till they get over with it. A sure thing to kill your motivation to do something.
Braving my own worries, I decided one morning, out of the blues, to venture alone to the "Edge of the World". A very famous touristic site an hour and half from Riyadh. Two third of the trip is on asphalted roads, and the last part dirt road if not rocky paths.
I prepared myself days before the trip and worked on my itinerary using Google maps.
I had new tires on my BMW X5, and all I had to do was to be careful. Also first time I was going off road with the car. I didn't know how it will behave but I trusted I wouldn't have a mechanical problem doing the trip. I trusted the route given by Google maps and had compared it to other publications.
A broasted chicken dinner and a big bottle of water I picked somewhere halfway on my route, was all I needed to run me for a day. It took two hours drive to reach the location. 45 min on asphalt road and the rest on a dirt road that was sometimes rocky. It is important to have an elevated chassis. My car did well.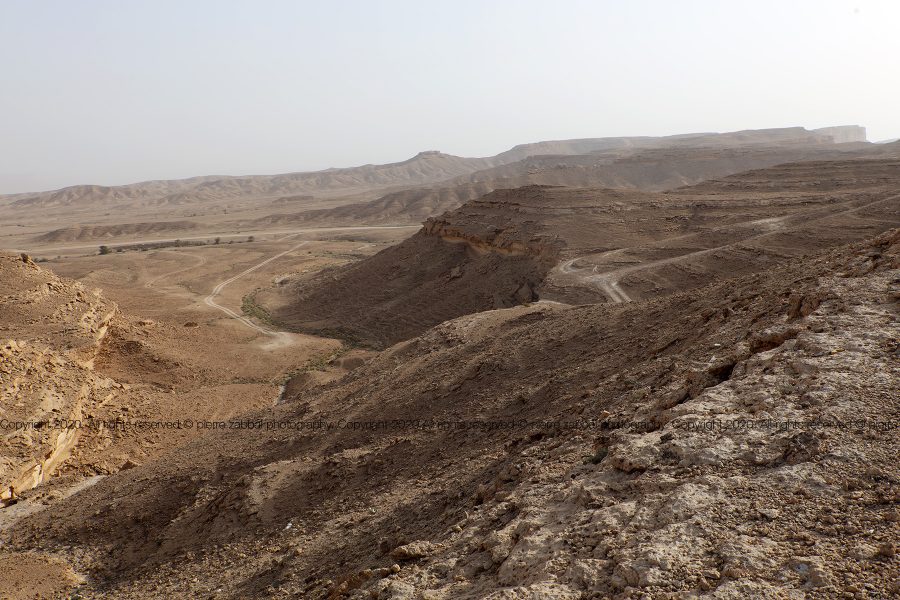 I was tempted many times to stop the car and snap a few pictures, but I didn't let myself to get distracted, except a couple of times. I didn't know what to expect ahead and was trusting the GPS. In the last stretch, I started having companions on the road. Either in front of me or right behind me or sometimes parallel to my path. I always let the impatients pass me. No need to feel an enraged person behind my back. Some have equipped their trucks with gigantic tires, they drive like crazy.
I felt very modest in my civilized car.
I reached a little dune where 7 cars were parked at the edge of the cliff, facing the open valley. The rest was to be done on foot. 1 km to reach the scenic location.
Marvelous sceneries! it worth the trip!